Santa Fe Parking Garage Construction Updates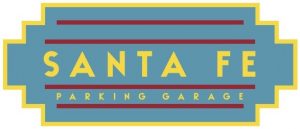 Santa Fe Parking Garage (SFPG) – Current Construction Update
The Ownership Group of the SFPG is committed to providing a clean and safe environment for its parking patrons as demonstrated in the ongoing improvements to the parking garage.  Major improvements are planned to preserve the life of this iconic OKC parking structure.
Concrete walkway repairs: April – August, 2021
Beginning April 19, 2021, you will notice the installation of structural bracing in the south east section of the garage.  This shoring will be installed in advance of major repairs, spanning the walkways to the center stairwell.  As a result, parking spaces surrounding the construction will be blocked off on each level during the repair period.
Stairwell C (the southern internal stairwell) will be inaccessible on the East side of the garage, nearest the walkways. The West side of the stairwell will be accessible for ingress and egress.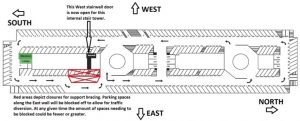 The concrete repair project is anticipated to take one hundred (100) days to complete.  Please check back to this site for periodic updates of the work in progress.
Recently Completed Projects
Replacement of parking access and control equipment – Summer of 2019
Upgrades to lighting – Summer of 2020
Full replacement of center stairwell trends and risers – Summer of 2020
Replacement of stairwell doors and frames – Summer of 2020
Thank you for your patience.